"Waterbearer" by Lorna Simpson, 1986. Courtesy of Lorna Simpson. © 1986 Lorna Simpson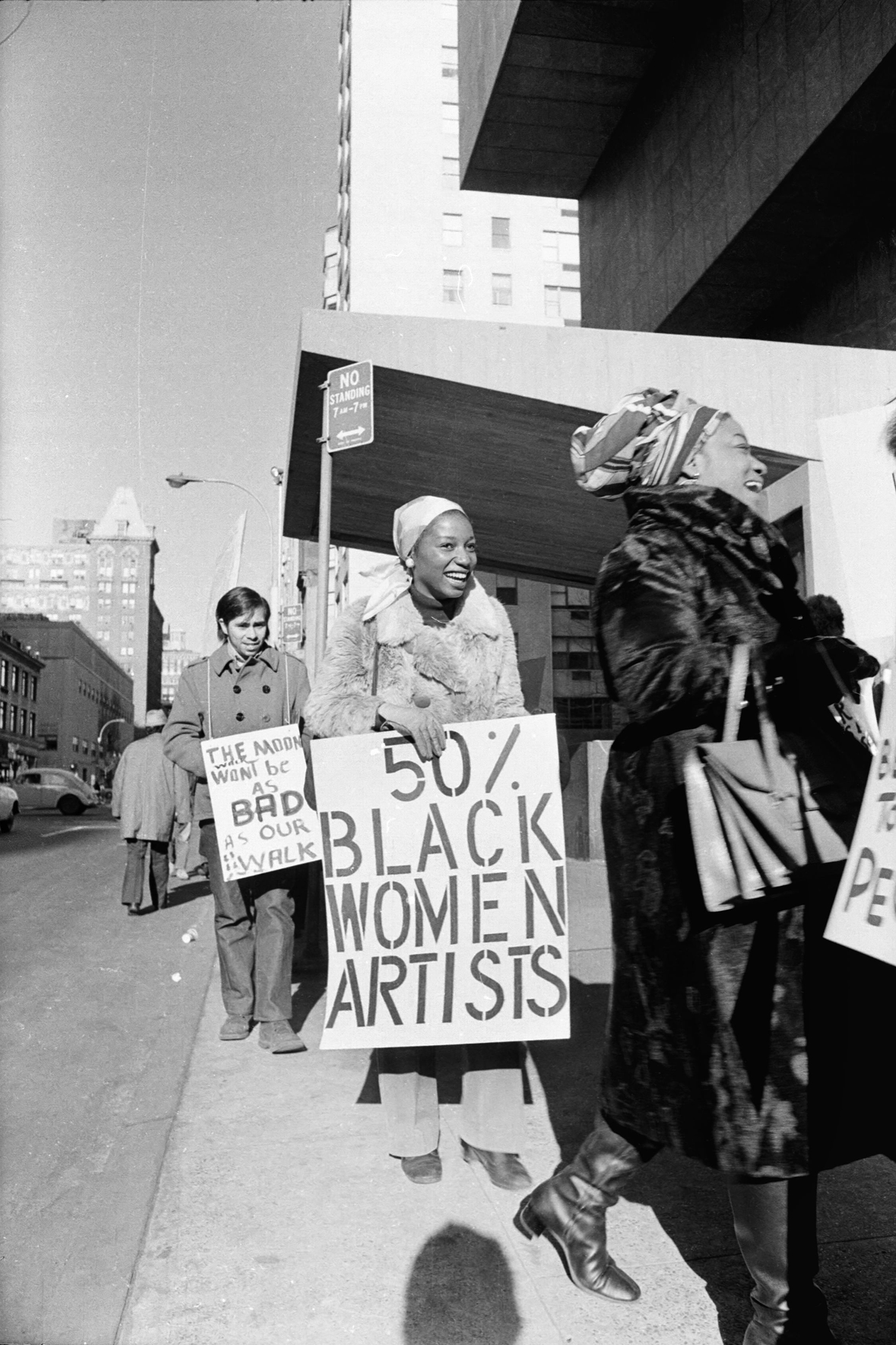 Faith Ringgold (right) and Michele Wallace (middle) at Art Workers Coalition Protest, Whitney Museum, 1971. © Jan van Raay

Focusing on the work of black women artists, We Wanted a Revolution: Black Radical Women, 1965–85 examines the political, social, cultural, and aesthetic priorities of women of color during the emergence of second-wave feminism. It is the first exhibition to highlight the voices and experiences of women of color—distinct from the primarily white, middle-class mainstream feminist movement—in order to reorient conversations around race, feminism, political action, art production, and art history in this significant historical period.
Presenting a diverse group of artists and activists who lived and worked at the intersections of avant-garde art worlds, radical political movements, and profound social change, the exhibition features a wide array of work, including conceptual, performance, film, and video art, as well as photography, painting, sculpture, and printmaking.
The artists represented in the exhibition include Emma Amos, Camille Billops, Kay Brown, Vivian E. Browne, Linda Goode Bryant, Beverly Buchanan, Carole Byard, Elizabeth Catlett, Barbara Chase-Riboud, Ayoka Chenzira, Christine Choy and Susan Robeson, Blondell Cummings, Julie Dash, Pat Davis, Jeff Donaldson, Maren Hassinger, Janet Henry, Virginia Jaramillo, Jae Jarrell, Wadsworth Jarrell, Lisa Jones, Loïs Mailou Jones, Barbara Jones-Hogu, Carolyn Lawrence, Samella Lewis, Dindga McCannon, Barbara McCullough, Ana Mendieta, Senga Nengudi, Lorraine O'Grady, Howardena Pindell, Faith Ringgold, Alva Rogers, Alison Saar, Betye Saar, Coreen Simpson, Lorna Simpson, Ming Smith and Carrie Mae Weems.
Faith Ringgold, For the Women's House, 1971. Oil on canvas, 96″ x 96″
"The mural For the Women's House was dedicated to the women incarcerated in the Correctional Institution for Women on Rikers Island, New York City, in January 1972. The mural remained on view until the facility became a male prison in 1988. Deemed inappropriate for the incoming male prisoners, the painting was whitewashed, but it was later saved by a guard, restored, and reinstalled in the new women's prison, the Rose M. Singer Center, where it remains on view.
Imagining the first female president and professional women basketball players among other positive female role models, For the Women's House incorporates suggestions offered to Faith Ringgold by incarcerated women. The play on words in the imaginary route and destination of the bus in the upper quadrant—"2A Sojourner Truth Square"—speaks to the "long road leading out of here" that the women had asked to see depicted.In an April 1972 interview with her daughter, writer Michele Wallace, Ringgold described her goals for the piece:
"If I hadn't done it for the Women's House then it probably would have been more political; but these women have been rejected by society; they are the blood guilt of society, so if this is what I give them, then maybe that is what we should all have. Maybe all that other stuff we're talking about is jive because these women are real. They don't have anything to be unreal about."
Where We At Collective, "Cookin' and Smokin", 1971 | Offset printed poster, 14″ x 11″
In 1972, the Where We At collective used the Weusi collective's Nyumba Ya Sanaa gallery in Harlem to hold their exhibition Cookin' and Smokin'. Weusi was composed almost entirely of men and conceived as a "brotherhood." Where We At's collaboration with them demonstrates the women's closer relationship with their male counterparts in the Black Arts Movement than with their female ones in the Feminist Movement.
Betye Saar, The Liberation of Aunt Jemima: Cocktail, 1973 | Mixed media assemblage, 12″ x 18″
Betye Saar's The Liberation of Aunt Jemima: Cocktail combines the iconography of the Black Power Movement, political violence, and aspirational middle-class American culture. It uses them to critique the racist stereotypes of black femininity and speak to the revolutionary aims of Black Liberation movements. Featuring a handmade label with a "mammy" figure on the front and a Black Power fist on the back, the ubiquitous California wine jug turned Molotov cocktail wryly comments on the potential and promise of armed resistance to oppression.
Carrie Mae Weems, Family Reunion, 1978-1984 | Gelatin silver print, 30″ x 40″
In 1965, Assistant Secretary of Labor Daniel Patrick Moynihan wrote a highly controversial report, titled The Negro Family: The Case for National Action, that blamed "the deterioration of the fabric of Negro society" on a weak family structure. Carrie Mae Weems's Family Pictures and Stories, featuring her own Portland, Oregon, family, was intended to refute the Moynihan Report. Incorporating candid photographs of her family with written text and audio recordings that document her family's history, Weems creates a deeply felt and realistic account of black family life in the United States.
Lorna Simpson, Radio Caldonia (Left to right; Alva Rogers, Sandye Wilson, Candice Hamilton, Derin Young, Lisa Jones) 1986 | Photographic print, 8″ x 10″
"Lorna Simpson is simply the most beautiful woman west of Dakar and north of Papeete. Her photographs, with their silences and whispers, inspire us to bring our own secrets to the art."
That is how Lisa Jones described Simpson, who was a member of the Rodeo Caldonia High-Fidelity Performance Theater collective. Her photographs of Rodeo members capture their stylish and triumphant originality. In this group portrait we see, left to right: Alva Rogers, Sandye Wilson, Candace Hamilton, Derin Young, and Lisa Jones.
***
We Wanted a Revolution: Black Radical Women, 1965–85 is organized by Catherine Morris, Sackler Family Senior Curator for the Elizabeth A. Sackler Center for Feminist Art, and Rujeko Hockley, former Assistant Curator of Contemporary Art, Brooklyn Museum.
Two books published by the Brooklyn Museum accompany the exhibition: a sourcebook of historical writings from the period, followed by a book of newly commissioned essays:
The publication of We Wanted a Revolution: Black Radical Women, 1965-85 / A Sourcebook has been made possible by the Elizabeth A. Sackler Foundation. Additional support has been provided by Mary Jo and Ted Shen.
A public symposium held under the auspices of the exhibition, and a published volume of new essays growing out of the symposium, have been made possible by the Elizabeth A. Sackler Foundation. Additional support has been provided by Mary Jo and Ted Shen.
We Wanted a Revolution: Black Radical Women, 1965–85 is part of A Year of Yes: Reimagining Feminism at the Brooklyn Museum, a yearlong series of exhibitions celebrating the 10th anniversary of the Elizabeth A. Sackler Center for Feminist Art.
200 Eastern Parkway
Brooklyn, New York 11238-6052
HOURS
| | |
| --- | --- |
| MONDAY | Closed |
| TUESDAY | Closed |
| WEDNESDAY | 11 am–6 pm |
| THURSDAY | 11 am–10 pm |
| FRIDAY | 11 am–8 pm |
| SATURDAY | 11 am–8 pm |
| SUNDAY | 11 am–6 pm |